Double Hung Cross Section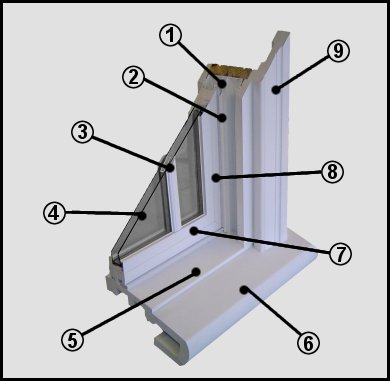 Legacy Window Specifications
Fixed jamb liner with premium block and tackle balances allow for ease of operation; both sashes tilt in for easy cleaning.
Retractable parting stop increases the strength and thermal properties of the window.
SDL grids provide the look of true divided light windows with the flexibility and performance of one-piece glass units.
Available in clear glass or low-e glass with argon, which will reduce your energy consumption and practically eliminate fading caused by harmful UV rays.
Prefinished cellular PVC frame parts have 10-year warranty on the finish, and can be repainted any color.
Bull-nose sill adds an impressive finishing look to the window. Standard sill-nose is also available.
Cellular PVC sash has fully welded corners. Our premium accessories include recessed lift handles and two flush-mounted locks and tilt latches on every window.
Triple weatherstripping decreases air infiltration, adding to your comfort level and reducing energy consumption.
Our unique one-piece brickmould and blind stop combination is attached from the side, leaving no factory nail holes to fill. When the window is installed using the interior strap method, as explained in out installation instructions, no further nail holes are made and no touch-up painting is needed.
STRUCTURAL & THERMAL TEST RESULTS*

GLAZING
SPACER TYPE &
GLASS THICKNESS
U-FACTOR
SOLAR HEAT GAIN
VISIBLE TRANST.
Clear
Alum./SSB
.47
.51
.53
Low-E w/ Argon
Alum./SSB
.30
.29
.47
WINDOW SIZES
44" x 60"
38" x 81"
Air Infiltration
.25
.19
Water Infiltration
R-25
R-30
Structural
R-25
R-20
Forced Entry
Grade-10
Grade-10
*with grids